Reading NMVB Information Feed
How to Read NMVB Information Feeds
Once you have subscribed to a NMVB "Information Feed" you can follow the guide below to access and read the feed.
To read RSS feeds in Internet Explorer 7, click on the Favorites Center icon or use the keyboard shortcut, Alt+C, to open it. Click on the Feeds button in the Favorites Center or press CTRL+J to view your RSS feeds. The names of the RSS feeds you're subscribed to are displayed within the Favorites Center. Click on the RSS feed you want to read, and IE displays it.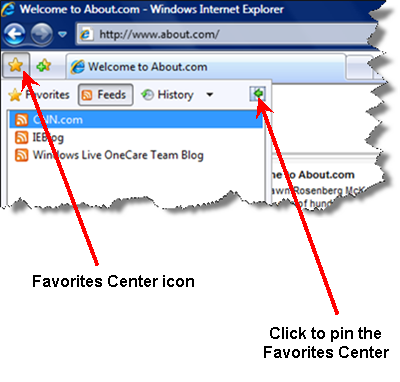 For more information go to RSS Explained.
When you click on a feed and IE loads it, the Favorites Center closes. If you're planning to read several RSS feeds in quick succession, it's better to keep the Favorites Center open as you read your feeds. Click the icon indicated in the screen shot above to pin the Favorites Center, which will keep it open.
NMVB Featured Pages