New Motor Vehicle Board Members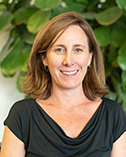 Anne Smith Boland
Dealer Member
Anne Smith Boland, Dealer Member, was appointed by Governor Gavin Newsom in February 2020 and chairs the Board's Fiscal Committee, the Government and Industry Affairs Committee, and the Ad Hoc Committee on Equity, Justice and Inclusion.
Ms. Smith Boland is Vice President of Bob Smith BMW-MINI and is a fourth-generation partner in her family's automobile businesses dating back to 1917. Throughout high school and college, Ms. Smith Boland worked summers in various departments in the dealership. She earned her Bachelor in Business Administration in Accountancy from the University of Notre Dame. Following graduation, she worked for Deloitte & Touche in public accounting and obtained her CPA license in the state of New York in 2000. In 2002, she returned to California and her family business as General Manager of Bob Smith BMW-MINI.
Ms. Smith Boland serves as Chair of the Southern California BMW Advertising Co-op Board, a Director on the California New Car Dealers Association (CNCDA) Board, and a Director on the CNCDA Foundation Board. She also supports several social justice and educational charities in her community and throughout the greater Los Angeles area.